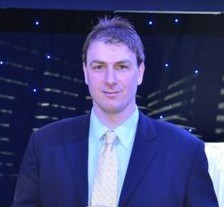 Date of Birth: 1972
Place of Birth: St. John's, NL
Inducted: 2014 (Player Category)
Defenseman John Slaney of St. John's enjoyed an exceptional hockey career that included outstanding junior performances, record-setting American Hockey League seasons and a rewarding stint in the National Hockey League.
As on offensive defenseman, he starred for the Cornwall Royals of the Ontario Hockey League for three seasons between 1988 and 1992 and was drafted ninth overall by Washington Capitals in the 1990 NHL draft.
The highlight of his junior career, as most of you in the room would know, came as a member of Canada's National team when he scored the dramatic game winning goal against the Russians to secure the 1991 World Junior hockey title. The goal that made every Newfoundlander and Labradorean fan proud.
The Celtics Minor Hockey graduate went on to play 268 NHL games with Washington, Colorado, Los Angeles, Phoenix, Nashville, Philadelphia and Pittsburgh between 1993 and 2004. He scored 22 goals, drew 69 assists for 91 points.
It was in the American Hockey League that he stood out game-to-game, season-to-season as a member of Baltimore, Portland, Cornwall, Wilkes-Barrie and Philadelphia teams. He was voted the AHL Top Defenseman for the 2000-2001 and 2001-2002 seasons, winning the Eddie Shore Trophy twice.
As a defenseman, he owns AHL records for points by a rookie with 20 goals and 46 assists for 66 points with Baltimore in 1992-93 and most career goals with 149 and the most goals in one season with 30 in 1999-2000. He was the first defenseman to record 500 points in the first 71 years of the League's history. He was named an all-star four times and was captain of the Canadian club for the 2002 game in St. John's.
Slaney won the Calder Cup with Philadelphia in the 2004-2005 season. He has completed his third season as an Assistant Coach with the AHL's Portland Pirates.
In addition to the NHL and AHL, he played in the International Hockey League. He was inducted into the American Hockey League's Hall of Fame.